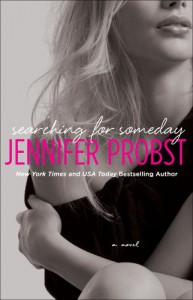 "Kate spent most of her life running from her family gift/curse and trying various jobs that never worked out. Something always seemed unsettling, as if she wasn't meant to be there, so it was easy to move on to the next project."

This sentence describes our protagonist pretty much to the letter. Before the story begins…

** mini-spoiler up ahead, apologies **

I've heard of Jennifer Probst's books for a while now, but this one is the first I got the chance to read.

In Searching for Someday we get the typical romance formula of girl wants white picket fence and boy doesn't believe in love. However, there's a twist. The girl, Kate, is gifted with "The Touch."

The touch of what you ask? Just the ability to sense true soul mates when she's around them and touches them. But she was never able to find her own. Along with her two college best friends, Kate starts Kinnections, a matchmaking agency that is partly based on her gift. She loves her job and is very good at it, but after a date where the guy ends up leaving with the busboy, she's declaring herself unmatchable and takes a break from dating.

Enters Slade, older brother of fragile-no-more Jane, who is up and leaving his place to move out of Manhattan, on her own, with a new job and a fresh membership in Kinnections. Slade doesn't believe in soul-mates, doesn't believe in love, and doesn't believe in HEA. What he does believe in is companionship, oxytocin, and compatibility. He also doesn't trust agencies such as Kinnections and considers them a money milking industry, capitalizing on people's yearning for the fairy tale happily ever after.

But he signs up with Kinnections. He's determined to prove his theory correct, while at the same time keeping an eye on his sister. His only living relative and the only person he loves and wants to protect.

Probst describes what Kate feels with Slade at one point in the book like this:

What was he wearing? Reminded her of the bonding scent vampires threw off when they met their soul mates in her fave series, The Black Dagger Brotherhood. Kate locker her knees to keep from leaning forward and taking a big whiff. And biting his neck.

I'm mentally high-fiving Probst for that one. Those vamps are the hottest thing in PNR fiction. Now back to the review.

Kate, on the other hand, is determined to prove him wrong and show him her business is legitimate and that her ultimate goal is to make successful matches. And so begins the long process of matching Slade up with his perfect woman.

At an early stage in the matching process, Slade, who's finding Kate irresistible decides that being with her will get her out of his mind. At the same time, Kate feels a special buzz when she's around Slade and is determined to push him away for fear of feeling his soul-mate connection with another woman. But when he finally kisses her, what Kate feels is:

Snap.

Crackle.

Pop.

Like Rice Krispies gone berserk, a live jolt of electricity hit her hard, wringing a gasp from her lips. Her insides shuddered, and raw, burning heat poured through her body, lighting her up like the Rockefeller Center Christmas tree.

Please note: all quotes are subject to change before the book is published. These quotes were taken from an advanced copy!

And then she knows he's The One. But she is the exact opposite of what his perfect woman is, so she decides to ignore the gift. Ignore her true mate's call.

Their relationship progresses on two speeds at the same time. For Kate it's rather fast, mostly for her gift and knowing what she wants. And she knows she wants Slade, even before having it confirmed and amplified by The Touch. Slade, on the other hand, denies what he wants in a relationship throughout 90% of the story. He wants Kate, he does, but mostly for his own physical pleasure, so when he feels other emotional urges where she's concerned, he doesn't know what to do with them and that strengthens his need to prove to her his stance – that love and HEA is just what the body makes us feel with Oxytocin. It's all hormonal.

Kate is a well rounded character, loving, determined and confident. She has her dog, three best friends, two of them are her partners, and she has her quirky, free-spirited mother. She is loved and supported and for all intents and purposes her life is full.

Slade is bitter, having been cheated on by his ex-wife, he's overprotective of his sister after finding her during her attempted suicide, and he's freakin' amazing deep down inside. He just doesn't really know it.

The story is predictable, I can't say it's not, but it flows pretty nicely, it's well written and has some awesome lines and funny situations. I think that Probst set a nice stage for this series, and it's definitely unique, what with the subtle splash of supernatural in this very real, believable life situations type world.

I'm pretty sure I'd want to read the next book, which hopefully will be about Genevieve and Wolfe. Their friendship/weird tension and her being engaged to hot shot doctor is… intriguing to say the least.

My rating: Leaning very much towards 4 Stars.

My thanks to Simon and Schuster as well as NetGalley for this advanced copy in exchange for an honest review.

This review and others can be found on The Book Hammock!